The team from Opera Atelier are back from once again being asked to perform in the Palace of Versailles. In a first, they had the opportunity to take some beautiful photos of Jeannette Lajeunesse Zingg (lady and dancer extraordinaire) in the ultra-private apartments of Marie Antoinette.
By Marshall Pynkoski
Opera Atelier's Canada 150 project of Marc Antoine Charpentier's masterpiece Medea completed a spectacular run at the Royal Opera House in the Palace of Versailles in May. It was Opera Atelier's fourth tour to the most beautiful theatre in the world – built to celebrate the wedding of Marie Antoinette and the future King Louis XVI.
Each Opera Atelier tour to Versailles resembles something of an artistic invasion, with 8000 pounds of sets and costumes, 40 members of Tafelmusik Baroque Orchestra, 16 Artists of Atelier Ballet and all of our principal singers. We commemorate each tour with an exceptional photoshoot in the palace.
Our invitation to Versailles and this photoshoot itself came to us courtesy of the Château's inspired director, Laurent Brunner.
We've had photoshoots in the Hall of Mirrors and the Royal Chapel, but this year Mr. Brunner gave us a truly once-in-a-lifetime opportunity – to shoot in the private apartments of Marie Antoinette.
The apartments are seldom open to the public, and even when open they are viewed only from behind stanchions during small specially arranged tours – so we were doubly honoured when Mr. Brunner offered to arrange a shoot for Opera Atelier co-artistic director Jeannette Lajeunesse Zingg in the apartments themselves. The challenge was, what could Jeannette wear that would live up to the astonishing backdrop of Marie Antoinette's jewel-like rooms? An email to Bonnie Brooks (vice-chair of Hudson's Bay Company) was all it took. Bonnie at once put us in touch with Meghan Loach at The Room at Hudson's Bay, and thanks to their enthusiasm and generosity we found ourselves in possession of three breathtaking Reem Acra gowns – couriered from NYC just in time for this shoot with Opera Atelier photographer Bruce Zinger.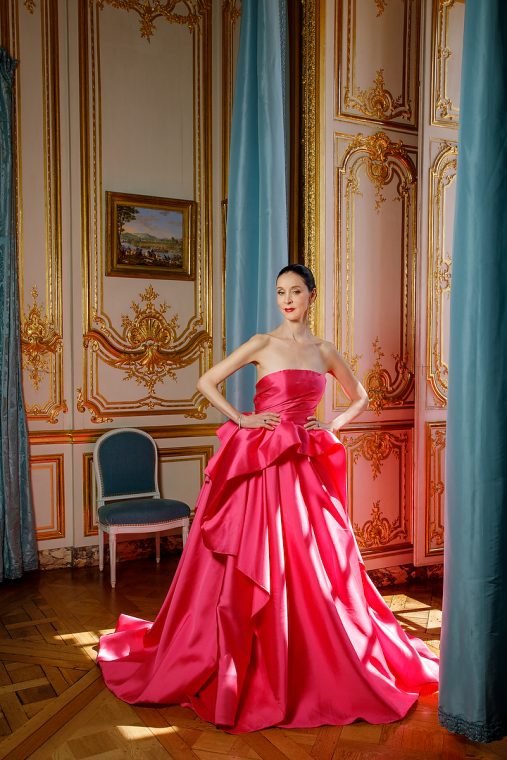 We were given unlimited access to the apartments on the day the Château was closed to the public. Accompanied by security guards and representatives of Versailles, we were taken through room after ravishing room and allowed to shoot wherever we chose. The curtains were opened, the stanchions came down and Jeannette had the surreal experience of stepping into Marie Antoinette's world as Bruce Zinger worked his magic, shooting his photos using only natural light.
Opera Atelier's beautiful co-artistic director looked utterly at home in Reem Acra's gorgeous gowns, in a setting that is the stuff of dreams.
And now it is back to reality as Opera Atelier gears up for our fall production of Mozart's The Marriage of Figaro here in Toronto, in Canada's most beautiful opera house – the Elgin Theatre. Opera Atelier's Figaro is sung in English and is the perfect show for the whole family, written by the composer who as a child prodigy actually sat on the knee of Marie Antoinette herself. We love these connections between our present and lives from the past. The two realities merge, making us feel at one with history.