The winter culinary scene in Toronto is a highlight and spending a cold night out with friends sharing a bottle of wine, a great meal and
conversation can't be beat. Tapas is a great way to enjoy the night out and explore new dishes and Portland Variety has always been able to lure me back in. Whether it's their brunch or an evening introducing friends to Octopus and Game Hen, it always ends well. Chef Jo Castrinos recently inviting us for a tasting of the new fall menu and rekindled my love of tapas group style. We sat down after our meal to get more insights on what it takes to make it in the Toronto culinary scene.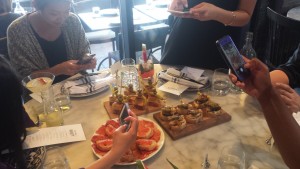 Who most inspires you in your cooking philosophy?
My influences and inspirations have been Graham Kerr (The Galloping Gourmet)  for his exuberance and wit, Alain Ducasse for his accomplishments , Jean-Louis Palladin due to his pioneering spirit, Mario Batali for his simplicity and Arpi Magyar for being my mentor and having a joie de vivre. All of the above bring a joy to cooking, each in their own way. Also my mom, but that's a given.
What is the most challenging thing about being a chef?
I think it's cooking the things I like to cook, and somehow making it enticing and approachable for my guests. I really enjoy simplicity and genuine food, but often it's not enough. The challenge is to make food that is ingredient based and at the same time adding something that makes a dish unique.
What do you love most about the Toronto culinary scene?
I love the fact that I have access to all types of ingredients, and that there is a vast variety of cuisines here, that I can borrow from, and enough people willing to trust me to feed them something they never considered eating before.
When creating your menu do you do so with wine pairings in mind? 
Somewhat. My dishes have always been wine friendly. I think it stems from the fact that my style is Mediterranean inspired, which always works well with wine. I don't ever plan a dish to pair with a wine, the wine is always secondary. I'm from the school of the thought that truly exceptional wines, require very little distraction, like food.
You also have a lot of creative cocktails, how do those fit into the mix?
Some work with almost all the dishes and some with a few. Overall my flavours are subtle allowing easy pairing. One or two dishes are bold, but the balance holds up. If anything the cocktails are in the same spirit of the menu.
What's your favourite dish on the menu? Anything you'd recommend as a must try?
I love the octopus, but one of my favourites is the beet and seaweed salad with the local pumpkin seed oil. Very unique and delicious.