Many of New York State's greatest adventures are right in Canada's backyard, making it a great road trip destination. Next time you are feeling restless, immerse yourself in greenery, get your sip on at world-class wineries and uncover delightful small towns with charming restaurants, groovy art galleries and unique museums.
Greater Niagara
Apart from the U.S. side of Niagara Falls, Buffalo is the closest getaway that guarantees a good time. With four border crossings within 28 miles of the city, make Buffalo the first stop on your road trip into New York State and indulge in one of the country's most vibrant cities. The city has recently restored its historic architecture and revitalized their downtown waterfront, Canalside, hosting hundreds of events throughout the year like concerts, festivals and fitness classes, making it a great summer spot to explore. Hop on the Water Bikes of Buffalo and pedal your way down the Buffalo River (yeah, you read that right) on these floating bikes.
Explore the remnants of Buffalo's industrial prowess on the Silo City Vertical Tour. It takes you 100 years back to when Buffalo was the world's largest grain port and up 100 feet to the top of the first and oldest grain elevator, offering sweeping views of the Buffalo River and Silo City. Then, catch a live jazz show at the Colored Musicians Club. A jazz club unlike any other, the CMC has been making music for over 100 years, with past powerhouse performers including Miles Davis, Billie Holiday and Duke Ellington.
Finger Lakes
Escape to the Finger Lakes, just four hours from Toronto, to stroll the charming town of Corning. Start your day off exploring the Corning Museum of Glass. Spend hours around the museum learning about 35 centuries of history, watching expert gaffers perform hot glass demos and taking part in the "Make Your Own Glass" experience allowing visitors to try their hands at glassblowing, glass-forming and sandblasting.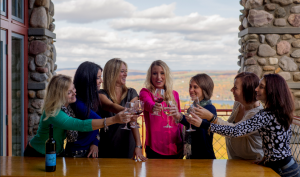 To take advantage of the day and surround yourself with nature, take the 'paddle the palisades' with Southern Tier Kayak Tours to kayak through the calming waters of Chemung River. Visit Heron Hill Winery, which produces cool climate wines that reflect the Finger Lakes region and pair well with food. After a long day, make dinner reservations at Sorge's Restaurant, check in at Hilton Garden Inn and grab some ice cream at Dippity Do Dahs Homemade Ice Cream.
Thousand Islands-Seaway
There is plenty of fine wine and activity to enjoy on the American side of the Thousand Islands. Winding through 78 miles of scenic vineyards, the Thousand Islands-Seaway Wine Trail gives easy access to many local varieties and unique experiences. Take a stop at each of the seven wineries and enjoy everything from tours of the property, live music, warm hospitality and of course, award-winning wine. For casual dining surrounded by water views and the magnificent Boldt Castle in sight, grab a bite at the Holland Street Bistro. This is the perfect place to kick back and enjoy your meal to the sounds of the bustling Alexandria Bay harbor.
If you're looking for a water experience, take a boat tour with Clayton Island Tours to the top of the Lighthouse on Rock Island or get on one of their glass-bottom boats for an "in -depth" look at the beauty beneath the surface of the River. Make a stop at the Boldt Castle on Heart Island, a 19th-century structure built as a monument of love by Waldorf-Astoria operator George Boldt for his wife Louise. Surrounding the castle are numerous gardens containing thousands of flowers, as well as the Yacht House housing a collection of antique wooden boats on display. This is an easy and romantic getaway, as Heart Island is an Official Port of Entry into the United States.