Toronto's pescatarian Italian restaurant Ufficio, located in Little Portugal, aims for each dish to carry you on an epicurean  journey, creating an intimate experience between plate and palate.
With Easter just around the corner, we know many of you will be giving up meat for the season, so we thought it would be the perfect time to feature Ufficio, one of our favourite Italian restaurants serving vegetarian and pescatarian fare. Feeling like indulging in some artisanal signature cocktails to pair with this hot-spot's delectable menu items? They've got you covered.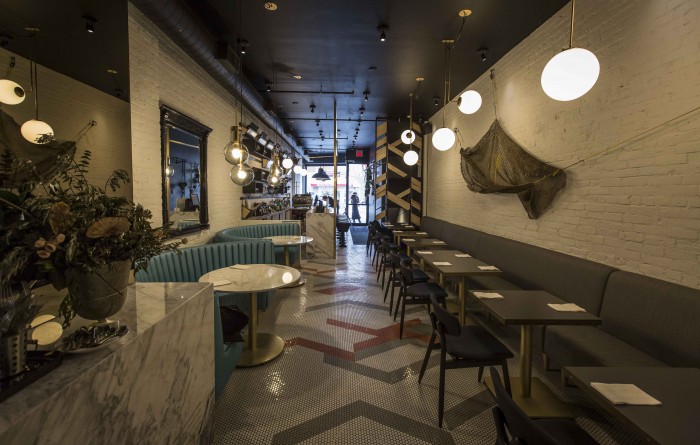 This contemporary, boutique restaurant features an open concept kitchen with mood lighting and votive candles on each table. The smooth beats in the background and a minimalist interior adds a refreshing touch to the ambiance of Ufficio. Guests may be seated in a booth, at a table or can dine at the bar where you can chat with the expert bartender and watch as he creates each guest's drink of choice.
To keep things fresh, Ufficio sources its ingredients locally (as much as possible) for a menu that changes monthly and of course, seasonal offerings. All praise goes to Chef Francesco (Frank) Venditti, former Head Chef of Jamie's Italian and King Street Food Company's Bar Buca. Before Bar Buca, Venditti worked at O & B properties (Jump and Canoe) and was the executive sous chef at Sassafraz. With a resume like that, you know he is a master of his craft, but should you require further proof, you'll have it as soon as you taste how thoughtful, light and flavourful his dishes are.
Recommended starters:
The rosemary & garlic focaccia are a flavourful pair that serves to open your palette for your entrée. Another great starter is the beet salad, insalata. Imagine this: pickled beets, watercress, ricotta salata, crème fraiche, basil, pickled shallots and almond gremolata. Mouth watering yet? The Sicilain style arancini is another superb choice and is filled with octopus bolognese and buffalo bocconcini served with bagna cauda.
How about those entrées?
We insist you try the cannelloni di zucca or the octopus with crispy black kale.
We are big fans of butternut squash and even bigger fans of Italian cuisine so to combine our two loves into one dish is absolutely divine. The cannelloni is filled with ricotta, roasted squash, parmigiano and finished with squash bechamel.
Another sensational entrée is the octopus, Polpo Alla Griglia, served with polenta, braised cipollini onions and sauteed kale. The octopus is grilled to perfection and leaves you salivating for more.
Cocktail anyone? 
If you are in the mood for a specialty cocktail you're in luck. Be sure to try any of Ufficio's artisanal cocktails, all made with quality (and not your run-of-the-mill) spirits and ingedients. The Paloma Inverno topped with chili salt and the Duce with Bacardi, Quinquina and house grenadine.
The restaurant is wheelchair accessible and offers complimentary wifi to guests.
Ufficio is open Tuesday to Sunday from 6pm until midnight. Seats fill up fast so it's best to make reservations ahead.
Bon appétit!
Ufficio
1214 DUNDAS ST. WEST
TORONTO, ONTARIO
416.535.8888