I've never been to China, but the Chinese New Year Carnival certainly made me feel like I was there. The two-hour spectacle was a wonderful glimpse of the country's rich culture. It was an experience I won't soon forget.
The show was split into 15 different performances, all of which mesmerized and delighted.
Dancers glided across the stage with long and sweeping movements during the "Volley Float." It was both romantic and captivating, with an end pose that looked like they were about to fly away.
The acrobats were even more intriguing. Both crowd favourites, a contortionist literally ran circles around her own head, and a diaboloist back flipped while juggling simultaneously.
All the while, the music never ceased to amaze. The China Broadcasting Chinese Orchestra did a fantastic job, despite having less than half of its members present.
"Chrysanthemum Flower Bed", a moving rendition of the Chinese pop song, was particularly stunning. The erhu, also known as the Chinese violin, resonated deeply as it echoed the cello.
All together, the music, the dancing, and the acrobatics painted a colourful and vibrant picture of China. It was the perfect start to a new year.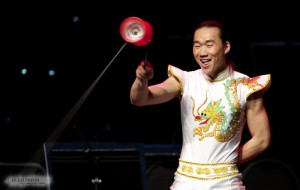 For more photos from this beautiful show visit our Facebook Page. Share the love and Like us too!
Photo credit: Hugh Photo (Li Haitao)