We take everything with us when we travel – our clothes, our money, and especially our appetites. Navigating restaurants while abroad can be an expensive thrill at best, or cheap and frightening at worst. We asked Greg George (also of  followsummer.me), one of our travel correspondents, to name his top dining experiences throughout his expert travels. So here, in no particular order, are his Top 12 global restaurant experiences.
1) Edulis: Toronto, Ontario
Visited by the venerable Ruth Reichl ("So many restaurants insist that the experience is about them: their food, their ambiance, their wine.  At Edulis, it's all about you. They feed you wonderful food – but they understand that a great meal transcends what's on the table.") Edulis's eclectic pairing of French and Spanish cuisines make Tobey Nemeth and Michael Caballo's small room a delight.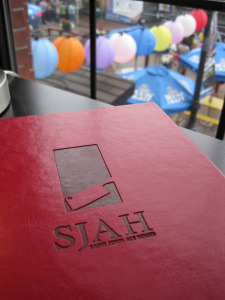 2) Saint John Ale House: Saint John, New Brunswick
We readily admit our skepticism when the Saint John Tourism Rep sent us a list of potential dining options; frankly, The Saint John Ale House did not jump out as a desirable Saturday-night-in-Saint John, fine 'pub-ish' dining option. However, we dug in, discovered the praiseworthy and progressive pub food offerings of Chef Jesse Vergen.
3) Vij's, Vancouver, British Columbia
Whether for work or play, we always make the effort to wait in line (no reservations) at Vij's, often to be greeted by the great Vikram Vij himself (who has become somewhat of a national celebrity recently) to his family style restaurant. Chef serves simple yet outstanding sophisticated flavours and house-made spices, turning up the volume and giving us his take on classical Indian cuisine. Call ahead for take-away as well.
4) Les Trois Domes, Sofitel Lyon Bellecour, Lyon, France
My 50th birthday celebration included a trip to Lyon to sample and savour all things classic Lyonnais food. Les Lyonnais take their food very seriously with delicacies like Andouillette, Tête à Veaux and Veal Foot Salad—a must on their must-eat collective dining tables.  Not for the faint of heart, and perhaps one of the more exotic  food experiences we've had in our travels but dinner at Les Trois Domes is wonderful.
5) Le Jardin de Sens, Montpellier, France.
During our time in Languedoc Roussillon, a good friend insisted on taking us out for a fabulous meal and overnight stay in nearby Montpellier to discover Le Jardin des Sens, a beautiful, simple hotel, with one of the best restaurants in the world.  The dining room is beautiful, with an equally stunning courtyard. By 9:00 the room is full of Gallic flair while the service still exhibits the carefree "French charm" that can be observed elsewhere in France. A lovely treat.
6) Workshop Kitchen + Bar. Palm Springs, California
A surprising new entry into the Palm Springs dining scene, Workshop Kitchen + Bar pushes the foodie envelope with their farm-to-table approach. Owners Michael Beckman and Joseph Mourani have realized a contemporary, modernist design in a beautiful Colonial building, a compelling staging point for their 'Americana' food offerings. Find wood-fired pizza, sous-vide offerings, duck rillette, pan-roasted scallops, black truffle risotto, and large family sharing dishes. We left feeling well- fed with plenty left on the wooden groaning board to take with us.
7) Spencer's Restaurant at the Mountain: Palm Springs, California
Booking a table at such a traditional, 'clubby', Palm Springs restaurant is not typically our style but the name Spencer's is synonymous with Palm Springs' classic style, and its historically significant mid-century charm offers a stylish elegance, and comfortable informality that isn't to be missed. Located in Old Palm Springs and situated at the foot of Mt. San Jacinto, the patio is legendary with the stunning surroundings matched only by great food and unobtrusive yet attentive service. Perhaps our best meal in Palm Springs.
8) The Whole Earth: Chiang Mai, Thailand.
Near the very busy Night Market in Chiang Mai is the beautiful Whole Earth Restaurant. Situated in a traditional Lanna Thai pavilion, it appears to float slightly above ground; the long open-air veranda offers beautiful views of the gardens. The delicious Tom Yum Soup tastes of lemongrass, ginger and chili and is divine on the tongue. The sweet and sour vegetables are delightful – not too sweet. We returned several times to indulge in a yummy variety of Thai, Indian and Vegetarian food, blissfully combining two cultures of traditional Thai and Ayurvedic Indian cuisines.
9) Fat Pasha: Toronto, Ontario.
Ahhh, Fat Pasha. Difficult to secure a place at one of their communal tables but when you do…you'll be feted with a ton of Middle-Eastern-Meets-Your-Jewish-Bubby food with a focus on the veggie side. Plus, a ton of food. The Fat Pashas also own Rose & Sons, and Big Crow, so if you can't get in to FP, try their other eats. But seriously—try to taste the Pasha.
10) Lüke: New Orleans, Louisiana
Chef John Besh's Lüke, is a lovely homage to the grand Franco-German brasseries of old New Orleans and is an easy NOLA saunter around the corner from the International House Hotel in the central business district. We were greeted by a bustling bistro room, and a welcoming oyster bar. We're then feted and feasted by Chef Matt Regan's wonderful food. A truly lagniappe "first night welcome to New Orleans" feed.
11) Cochon: New Orleans, Louisiana
Dinner at Cochon in the city's up and coming Warehouse/Arts district, is a must. The room is warm and bustling with warehouse-themed brick predominating the theme. We have an early reservation (did I mention how busy the New Orleans eating scene is?) and once seated, we immediately acknowledge some more New Orleans lagniappe: we find ourselves engaged in animated and unreserved conversations with our fellow diners–typical NOLA behaviour. Delicious starters of arugula &  grilled watermelon salad and a mushroom and beef jerky bowl of greens with a lemon dressing are followed with oven-roasted red fish "Fisherman Style" with pickled fennel for me, and a delicious soft-shell crab for John.
12) Atchafalya: New Orleans, Louisiana
A jazzy honky-tonk trio welcomes our rain-soaked feet and damp spirits to a highly anticipated brunch at Atchafalaya. When seated, we indulge in their popular make-it-yourself Bloody Mary bar, featuring numerous types of home-pickled garnish options to top off our choice of green tomato or traditional homemade tomato juices. John opts for the Oysters Rockefeller Eggs Benedict garnished with Apple Smoked Bacon and I nosh on The Boudreaux – sunny side eggs, alligator sausage, jalapeño corn bread, crystal potatoes and creole hollandaise – rainy day wonderful.
Travel and eat well, my friends!