I got a sneak peak at the new show Odysseo which runs until July 16 at its new location in Mississauga. Last night, Normand Latourelle opened the show with an emotional sentiment to celebrate Canada 150, honing in on what it means to be Canadian. And with that special message Cavalia invited 800 Syrian refugees to attend the opening performance. It was the perfect way to celebrate the opening night of Canada's largest traveling show.
65 horses of 12 different breeds, and 50 artists bring to life a world of dreams and fantasies. The stage is impressive using 1, 626 square metres with hills that are three storeys tall. Further enhancing the journey, the production uses breathtaking graphic backdrops on large IMAX size screens. The audience is transported from a forest, to Monument Valley, to an African savannah and Nordic glaciers.
If that isn't enough to take in, there is a full size merry-go-round which aerialists use to great effect. The 18 ton merry-go-round is lowered from the sky where aerialists frolic freely. In another scene, women wrapped in long white silk scarves soar over a pack of majestic white horses; a stunning visual display.
Beyond the stunt-riding, gymnastics and super human feats of acrobatics, the most delightful moments are those of the four-legged talent; simply stunning animals, well groomed and behaved and meticulous in their movements. The classic equestrian dressage and even dancing was made even more impressive by fact that the trainers/riders used nothing more than gentle words and pats to direct their co-stars.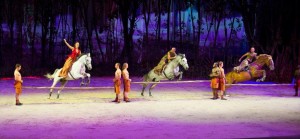 The magic wraps up when the stage becomes a lake with 300,000 litres of water pumped in.
This is a large-scale show, which is mind boggling in its complexity, but there is also a poetry that pulses through the core of the production, the simple beauty of humans and horses coming together and creating magic. The show runs approximately two hours and it is quite simply dazzling.
In fact, the only thing that I can't believe, the one point that makes me question it all, is how they're able to do this night after night and never cease to amaze their audiences.
Available at cavalia.com/Mississauga and by calling 1-866-999-8111