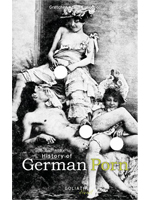 The 6th annual Erotic Arts & Crafts Fair (EACF) hosted at the Gladstone Hotel this Saturday February 11th is not an event to bring your grandmother to. Presented byToronto's Queen West sex shop, Come As You Are, dozens of vendors are putting their goodies up for sale. Sexy crafts include crocheted pasties, handmade lingerie and knitted dildo cozies. Even adult playtoys deserve a little covering. Provocative and playful artwork being featured is sure to garner a few glances and entice buyers to spice up their art collections. The event swings into town just before Valentine's Day, with extended hours (12 noon – 8pm), more vendors, a cabaret show and a DJ'd after party. Admission costs? There are none. Looks like Valentine's Day is kicking off early this year.
The EACF aims to bring together different communities to showcase the diversity of erotic artistic expression that is active in Toronto.
Sixth annual Toronto Erotic Arts and Crafts Fair
When: Saturday, February 11
Time: Craft Fair: Noon to 8 p.m., Cabaret: 9:30 to 10:30 p.m., After-party: 10:30 p.m. to midnight
Admission: Free
Where: Gladstone Hotel Ballroom,1214 Queen St. W.
Website:  www.eroticartsandcrafts.com 

Similar Posts: